At Gregory The Geek our primary focus is on solving our clients' problems. Whether your problem is a basic "How To" PC question, a need for computer repair, or as significant as your system crashing, our goal is always the same; resolve your problem as quickly as possible, in an efficient and effective manner, with an emphasis on your satisfaction.
COMPUTER REPAIR We provide the know how, products and service for residential and small and medium sized business. This includes anything having to do with your pc computers, your network, printing and supplies, storage and management of your data files and your Internet access.
We repair computers at your site or in our shop. Services include computer checkup, diagnostic, viruses, trojans, worm removal. We will also transfer your files from your old computer to your new, backup or restore your data. If you have an infected computer on your network, or you suspect your home computer is infected, call us immediately. Our staff is highly experienced in removing many different viruses and malware, including the aggravating hijackers. For your convenience, we offer on-site service.
COMPUTER SETUP Take the hassle out of computer and computer peripheral setup with this PC setup service. We will setup your computer (including monitor, keyboard, mouse and speakers), install software applications, external peripheral devices, configure your internet and email account and test your PC for functionality. MORE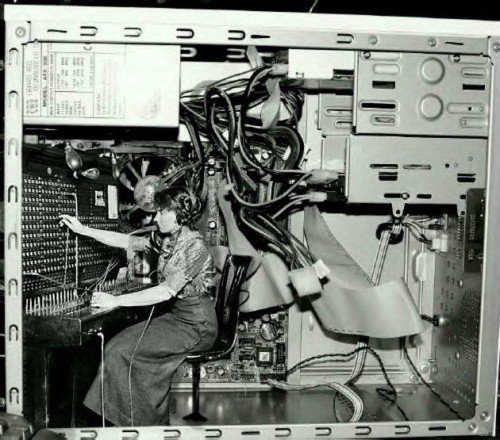 VIRUS REMOVAL Let us remove a virus, trojan, or spyware from you computer. MORE
SPEED UP YOUR COMPUTER Computer running slow? We will clean up your computer to get it runnig at peak proficiency MORE
DATA BACKUP AND RESTORE You don't want to be surprised by a computer crash. Protect all your important data, files, photos, financial records, and more. Let us help you prepare your system for the worst. MORE
NETWORKING We design, install, repair, and troubleshoot computer networks of all sizes.Do you have two or more computers in your home of office? Call us to setup your home network. We can also get your wireless connection going. We can configure your DSL or Cable installation. MORE
CONSULTATION AND TUTORING Talk with us about your home computer, networking and computer peripherals and get the feed back and advice you need for integrating them with this technology consultation service. We will review your current devices and recommend integration, upgrades and purchases to enhance your home network setup. We provide tutoring on general computer user and software knowledge such as Microsoft Word and Excel. MORE